Secure Gear Shift Lock Images
It has always been our policy to provide our customers with as much detailed information as possible. We do this because we want you, our customer, to be completely informed about the products you are receiving. Simply stated, what you see is what you will get We stand behind the merchandise we offer and are proud to carry only quality merchandise at an affordable price. Please take a look at the follow images, they will better illustrate the quality of the Secure Gear Shift lock. As always, if you have any questions at all please do not hesitate to give us a call or send us an email.
Click on the thumbnail to view the larger image

Front view image of the Secure Gear Shift Lock with shackle attached. Keys in lock.

Side view of mounting bracket, lock and shackle

Lock assembly with 3 keys, mounting hardware and rubber gasket

Mounting hardware: 3 carriage bolts, 3 lock washers, 1 round washer, 2 special washers designed to work with 2 special break off bolts

Side view of mounting bracket with overall dimensions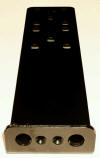 Front view of mounting bracket detailing mounting holes

Another side view of mounting bracket
Price for the Secure Gear Shift Lock is 63.90 includes all shipping and handling charges. Please go to our Customer Order Form or Pay Pal Ordering page for more information.
If you have any questions at all please email us at Simjack@optonline.net or you can call us at 888-7SIMJACK (888-774-6522) Please note: Due to the volume of calls we receive we cannot always answer your call. Please leave your name, number and a brief message and we will return your call promptly.
Click here to return to our Home Page